Where did Little Doe go?
As my e-subscribers have already learned - I have some exciting news to come in the next few weeks! So firstly, I need to officially address the rebranding that you may have noticed - with the change of my business name.
A quick history: In 2006 I launched a graphic design business and operated under my beloved name: Little Doe Design. I have enjoyed a successful career with many awesome customers, and projects ranging from logo and print design, to full website development. Working from home and raising our four children, I have considered myself abundantly blessed.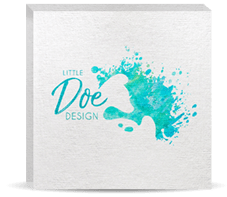 Since 2016 however, I have shifted my focus in order to follow my true passion of becoming a professional artist. The transition has taken some time, and so I continued under Little Doe for the most part. To be completely honest, I didn't have the foresight (or maybe even the confidence) to make a clean-break distinction in my business name; for those who would be new to my work. So it is with much gratitude I am happily announcing that I will now operate under my professional title as an artist - Lauren Daae.
With the goal to share my work as orderly and professionally as possible, this change will eliminate further confusion - especially for new followers and collectors. I realize I might be a bit of a Captain-Obvious here, but really - I can think of so many reasons why this makes sense!
Most importantly I wish to THANK each and every one who has supported me in the past, and continues to encourage me along the way. You have helped me to dream a little bigger, and build the confidence that is so life-giving to a pursuit as vulnerable as artistic expression.
I am truly humbled, and looking forward to sharing my journey as a Canadian artist.