The Waitresses
The Waitresses
A portrayal of Lois Ryan and Lilah Solie
10x20" Diptych Coffee on Canvas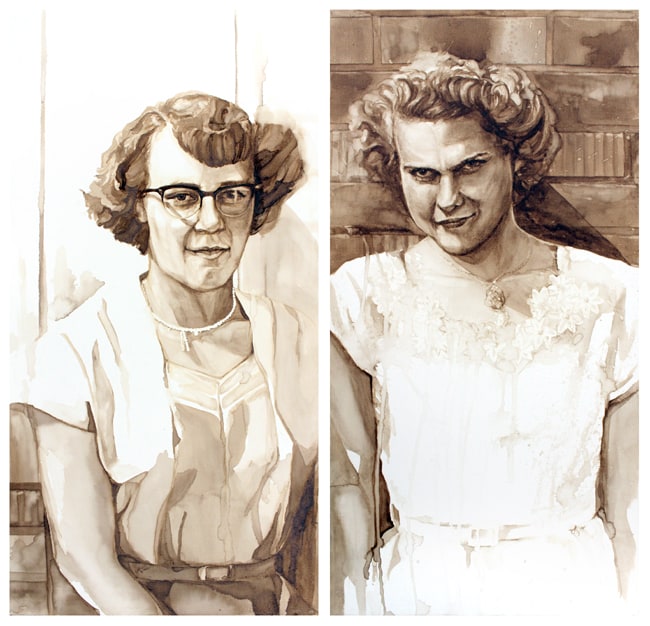 "Lilah and I worked in Rederberg's General Store in Lake Alma one summer. Oh we had a good time together. The day that picture was taken we served at the Hagen twin's double-wedding in Torquay... we were quite excited to have been asked." When I first picked up the little black and white photo, my jaw dropped. "Is that Lilah?" I hadn't really seen many pictures from her younger years. I was captivated. Squinting from the bright sun, she stood straight up and looked so feisty. I loved her. I obsessed over these two ladies. Caught in time on a 4" paper, their whole lives ahead of them. These women are both a part of my extended family now (through my husband) - Lois on his mother's side, and Lilah on his father's. At the time of the picture, both unmarried - they would have had no idea that this connection would form. And the determination they had... they were going to need it.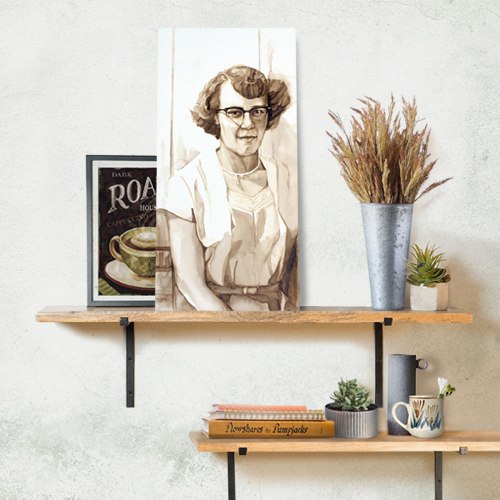 I'll tell you about Lois for a moment. One of the sweetest, shortest power-houses that I know. If I were a producer, I would definitely be working up a script to make a movie about her life. A widow since 2003, mother to 8 strong children (one that she lost at the age of three years old) - I am often amazed at how a person can be so bold and so gentle at the same time. She is full of laughs and smiles, but there is no shortage of heartaches that have marked her journey. She welcomed me over for coffee one morning and we looked through her precious memory books. I loved to hear the stories behind the scenes - a lot of hard work, neighbors... but the best part was more in the way that she spoke. Her tone, pauses, giggles and sighs. It's like time-travel that's just good for the soul.
And Lilah, the firecracker that caught my eye. 'Lilah' was essentially painted twice. Through a mishap with a garden hose and my 5 year old, I watched my finished work dissolve. Fighting my tears and temptations to give up, I re-purposed the splashes of ruin with intention. I realized that in some ways this painterly tragedy echoed with the stories of my heroines. It's difficult to describe the lighthouses that these women became. They certainly battled, but their struggles produced diamonds.
Lilah was a Grandma to me and many others who weren't born into that privilege. Being that I only came to know these two after marrying into their extended family - the version of her I saw was a physically fighting one. She was very gracious and not the bitter character that one could become under life's circumstances. I can only remember hearing her mention the bright sides of her life, though she was in pain. She impacted me greatly. After she passed, I learned more about the sparky, creative, active girl she had been. Knowing her personality, it made sense... but seeing her physically that way, was priceless.
Every portrait that I paint feels like a massively important and humbling task - and these two were no exception. I hope to visit their faces in a painting again someday. Thank you for reading this short tribute to two lights in my life - Lois and Lilah.
Artfully yours,
Lauren